Shipping & Returns
23/09/2015
We ship worldwide with tracking details provided and express courier service available on some products. In addition, we offer a no-quibble guarantee to replace any item that may, in some rare cases, arrive in a less-than-perfect condition.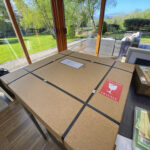 Orders placed in the gallery will be processed and shipped to the agreed time scale at the time of purchase, and we are always happy to schedule a later delivery if you are away.
Website orders are generally processed within 4 – 5 days but often much sooner. Tracking details will be provided upon shipment, and for overseas orders, we usually wait until the tracking info is live on your country's system before emailing you.
Shipping times vary from next-day / two-day delivery in Ireland to approx 5 – 10 days for UK and EU.
We ship overseas to the USA, Canada, Australia, New Zealand and all other countries in specially designed protective boxes that ensure your framed pieces arrive in perfect condition.
Shipping times vary between 7 – 20 days, but as with any delivery service, this can change depending on local logistics.
In the unlikely event that you are unhappy with your print or perhaps received a gift that doesn't suit you, please do contact us to enquire about exchanging it for another piece that would be in stock. We are happy to do this for pieces we carry regularly, but please note this may not be possible if your piece was a particular order or an end-of-line / rarer print made to order.